northwest
NW
I'm here a lot.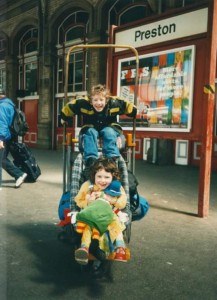 My whole life really.
It seems to be continuous circles. I get the TransPennine express to Edinburgh. Where my other life is. Edinburgh
I have got on and off at every stop along the route.
Manchester Piccadilly
Manchester Oxford Rd
Wigan North Western
Preston
Lancaster
Oxenholme Lake District
Penrith North Lakes
Carlisle
Lockerbie
Haymarket
Edinburgh
I'm good at trains. I know how to be comfortable. How to get help. How to buy food – or get some for free. How to be alone. How to be talked to. How to sleep safely. How to entertain myself for 3hrs30 without getting anything useful done and how to use the time productively.
Luckily I quite like trains.
KIERA MCINTOSH-MICHAELIS
FOR PERFORMANCE BETWEEN LANCASTER AND MANCHESTER
PRESTON
when the conductor arrives try to make them smile . this can be performed whenever a conductor appears/reappears
WIGAN NORTH WESTERN
take all your old travel tickets and compose a landscape on the table in front of you . use no adhesives of any kind . you may tear your tickets
MANCHESTER PICCADILLY
compose in your mind a recipe for a chutney/jam or other preserve . start a conversation with a fellow passenger . use every ingredient in your conversation without mentioning recipes . if successful your conversation partner will go home and create preserves matching your recipe . you will never know the outcome
MANCHESTER OXFORD ROAD
while you wait in the station try to hear the drops of water that fall from the railway arches below the track . you will not be able to . note down the number of drops that fall
SALFORD CRESCENT
search the carriage for a passenger eating a sharable food item . make an impression on them (in whatever way you desire) such that they decide to share their food with you . the effect is greater if you do not ask for any food or make mention of your own hunger
DEANSGATE
give an item of your own clothing to someone else who might need or appreciate it . you may never see it again
JAMES VARNEY